Having decided to enter WRGB once again, our main goal for the event were like last year to finish the event to get that full on World Rally Championship event feel. However being competitive types we also wanted to improve on our result last year (7th in class). So our goals for the event were to finish, to improve on our results last year, oh and to be first of the three Micra's entered.
Well we achieved all three! We finished 50th overall (94 entries), 5th in class (9 in our class) and 1st of the three MIcra's in the event, however it was a much bigger adventure than last year…..
Thursday 13th Nov – Ceremonial Start – Day 0

The event started off at the ceremonial start, which in a word was EPIC! To be able to mingle and be on the same stage as your hero's and WRC stars was amazing. We had a great chat with Meeke, Mikko and others, and the great thing is they were just a 'into' rallying as we all are. They were more interested in our national event cars than all the WRC cars, there was lots of discussions about rallying a Micra and conditions of the stages (useful as they had recce'ed them, and we hadn't). We also spent time meeting the fans and handing our autographed cards which went down a storm with the fans.
Then came our turn to drive over the start ramp, and see all the spectators and hear them cheering us on.
Then it was the long drive back to Deeside and the Service Park. At this point I would like to say a BIG thanks to our service crew (Steve Stringer, Ian Phillips & Rich Milbank) who looked after us throughout the event and worked hard to ensure we got to go and out and 'play' each day. Many thanks for your hard and muddy work.
Friday 14th Nov – Day 1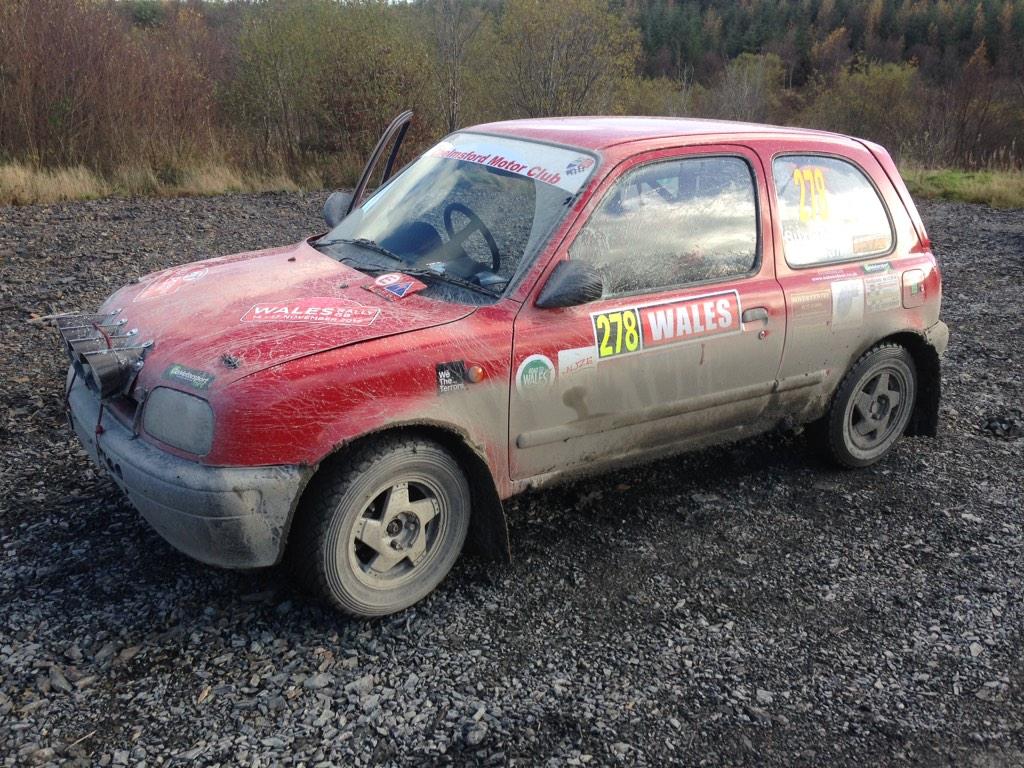 Day one started off in some very wet conditions on a two hour road section, leading into the longest day of the event.
Driving the first couple stages were a re-learning exercise in how to drive on forestry gravel, since the last (and only) event we had done on gravel was WRGB last year! Also to add to fun, I had to learn how to make the best use of the slipper 'diff' fitted earlier in the year. It soon became clear that a different driving approach is needed to get the best out of the diff, but the difference in traction over a normal 'open' diff was great. The new approach was the need to keep on the power through the corners and believe that the car will pull you through. The stages were very wet and slippery, but overall as I got used to the car on gravel the times came to us. The biggest 'issue' during the day was losing a fair bit of time stuck behind Graham Swann who was competing in his first rally and had rolled on the first stage and damaged the screen so found it hard to see out of the car. He was great about it and once he spotted us along side moved over, he just couldn't hear our horns over the gravel and the noise a R2 Fiesta makes (BTW a R2 Fiesta is VERY fast!!)
At the end of Day One we were happy with our result and position, and feeling more confident in the car and looking forward to more of the same on Day Two.
Saturday 15th Nov – Day Two
The start of Day Two carried on from where we left off on Day One, enjoying the stages and learning more and more about the car even dabbling in a bit of left foot braking which worked!
At the end of the third stage of the day we could smell Petrol, worried at first it was ours the marshals told us it was the car in front. Which was sad news as we were following another Micra (and my main goal to beat), Keegan had managed to put a fist sized hole in the fuel tank. We stopped and offered what we could to help, however in the end they used Rally 2 to miss some stages and carry on, on the Sunday. With Keegan gone and my main target 'out' the mission now became a finishing the event.
Then during the road section heading to the four stage of the day, a loud noise appeared under braking on the front left. A quick check found nothing obvious, and looked like a mud flap falling off. We carried on as the road timing was tight. Heading into the next stage it became clear that something was up as there was very little braking effect into left handers and the handling was well 'off'. At this point I remembered a similar (but not as bad) issue like this which was a collapsed wishbone bush. Thinking it was just this, and the fact that nothing seemed to fall off, we finished the stage but had dropped a fair bit of time.
We still had two long road sections and one small stage to do, we carried on. I learnt how best cope with 'strange' handling. Chick Castle was the last stage and luckily a short stage so we didn't loose too much time.
We got back to service and the guys soon had the car up in the air and it soon became clear that it was much more than a worn bush, but actually a snapped wishbone and it was lucky I had kept the OEM front ARB one (some don't on gravel) as this was the only thing keeping the wheel under some sort of control.
The Service Crew were great and soon had our spare wishbone fitted, although we would need to take things a bit easier as the spare is a standard item which hasn't been seam welded and running normal bushes.
Sunday 16th Nov  – Day Three
The last day of the event was much shorter than the rest with just ~15 miles of stages, with two runs of Kinmel Park (or KinHell as I now think of it) and then two forest stages to finish off with including the WRC Power stage.
Kinmel Park was it's usual VERY rough self, running today behind the second run of the WRC crews (other two days were after just one run) meant the stages were a LOT rougher…. From the off we knew today was very much about finishing, looking at the results at the end of Saturday we were quite secure in 5th in class and 1st Micra. So it would all be about ensuring a finish…..
This meant a slightly different approach, and given how rough the stages were we took care where it was rough especially with the standard wishbone on the front left. Luckily the last half of the last stage was in much better condition, and allowed us to push on and really enjoy the car gravel roads.
During the day we picked up a loud clicking noise which seemed to be road speed related, again nothing fell off so we carried on but it was a definite worry. In the end it was just the brake cooling ducting had wrapped itself round the nearside driveshaft.
We made it too the finish ramp in Llandudno, and once again it was a great relief and buzz to know we had finished a real tough event and had a real adventure at the same time.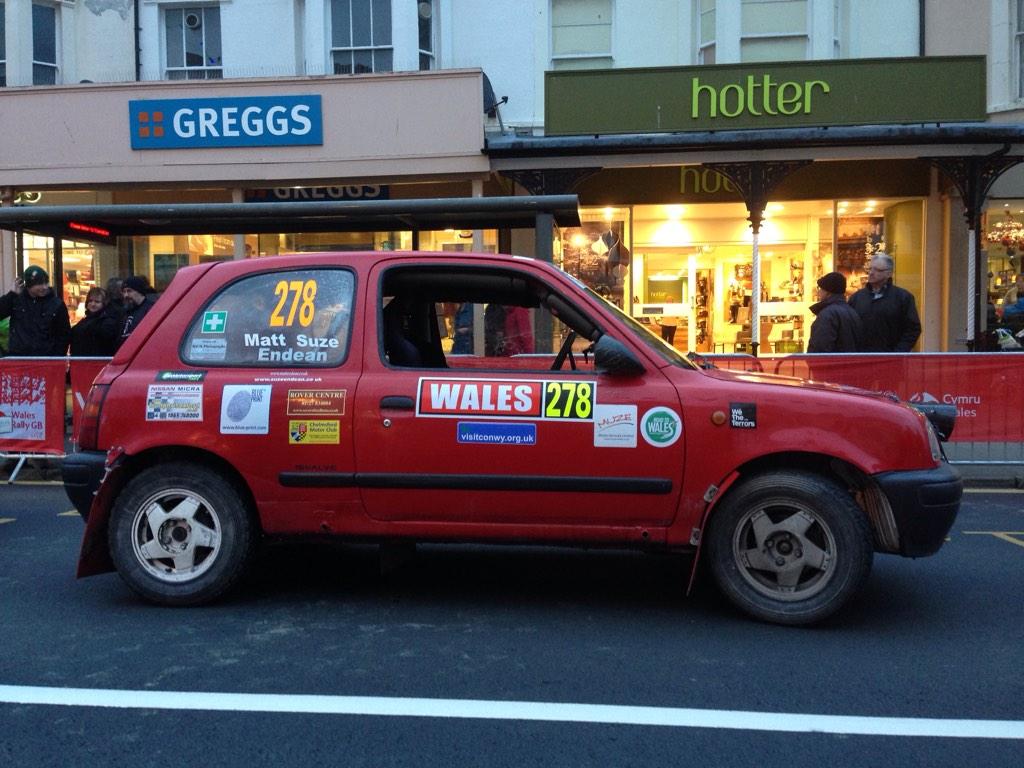 I would like to say one final thank you to Suze for being a ace nav, once again we were penalty free getting all our road timing correct (many didn't!) and was spot on with the notes at all times and kept me under control when I was getting carried away.
Here as a final sign off is our final stage of WRGB '14, I will soon post up post WRGB work to be done and then plans for 2015.