After completing WRGB twice and many many events it was time to get the front shocks re-built.
This meant I needed to remove them from the car and then strip them down to the bare shocks and clean them up.
During the clean up I re-built / greased the all metal top mounts, which you can see in progress here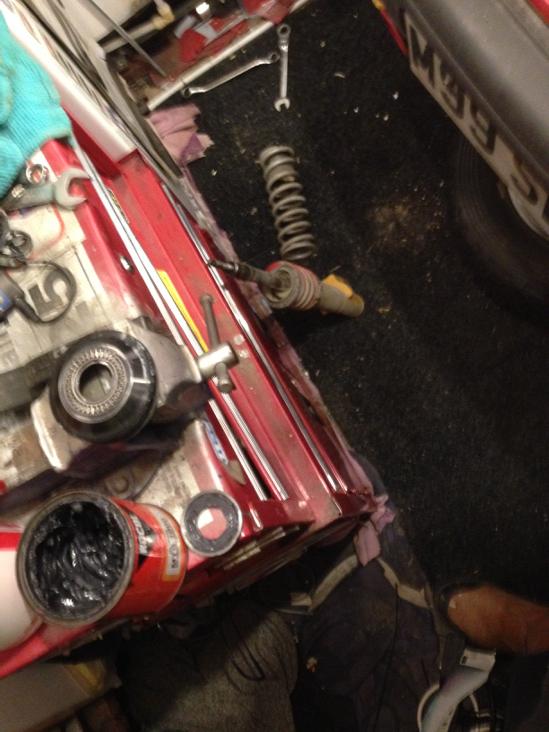 After finishing the clean up, the shocks are now ready to head off to back to Spax to be tested, checked over and re-built as necessary. The OSF shock definitely is showing some wear as the re-bound rate at full compression is a lot slower than the NSF.
After this I had a bit of spare time, I used this to treat the rear beam and suspension to a coat of Krust. Once this had reacted and dried off I then gave it all a couple of coats of silver spray paint.
Finally in an effort to try and improve the looks of the car, I cleaned and painted some of the front suspension parts whilst they are apart (mostly the top mounts), I also gave the engine bay and inner bonnet a good clean. However this will need a second hit as that Welsh mud does tend to get everywhere and sticks very well!
This coming weekend, will be about fitting a number of new parts in a bid to try and rid the car of the intermittent mis-fire.
As usual there has to be a 'to-do' list and here it is at the moment, I am sure this list will grow before the weekend starts :-
Weekend to do list
– Re-build and fit front shocks (if returned from Spax)
– Fit new dizzy, rotor arm & cap, HT Leads, Spark Plugs
– Test & clean the fuel injectors in my new cleaning and testing rig.
– Change Fuel Filter (6 monthly lifed item)
– Lower rear ride height (remove 15mm spacer)
– Small patch of welding to OSR suspension mount
– Sort through the spare kit boxes, also digging out the standard ECU which will form part of the Bike Carbs kit.
– Sort out what tyres we will use at Bovington Stage our next event
Anyone free to help out 😉