Our first event of the year has been and gone now, and it was a great weekend of rallying. With it being a two day rally in Dorset we shared a holiday lodge with another crew out in a BWM – so lots of rallying banter and fun was had.
We had been to Bovington once before to marshal on the Bournmouth Endurance rally last summer, so we knew what the venue would offer. It offers a different venue to your standard MoD base, it has a lot of gradient changes and some very high speed sections.
The rally started on Saturday afternoon with four stages and then another six stages on the Sunday.
Saturday started off wet, so we went with inters on the front and wet (well worn) on the rear, this tyre combination worked well through the event and is what we used for the full event as although it was dry at times, there was still standing water and it was cold!
The first few stages started off well, with Suze getting used back to driving with it being her first stage event for 11 months. Although it wasn't so good for our fellow crew in the BMW who went off on SS1, with no real damage, but it required a tow out of the stage, so they were out until the trophy rally on the Sunday 😦
At the end of the first day we were clear in 3rd in class, with  healthy lead over the modified 205, but a bit of a way off the other two ahead of us in class.
Sunday dawned wet again, so it was more of the same with more confidence in the car, conditions and the venue we pushed on harder which lead to to odd 'brush' with the cones/tyres/course markers.
Overall we had a great event, enjoying the high speed challenge of the event. Thankfully the car was spot on throughout the event, only requiring fuel and a set of brake pads and small bit oil.
Couple of pics from the event :-
Here you can see how hot the brakes got, using a IR Camera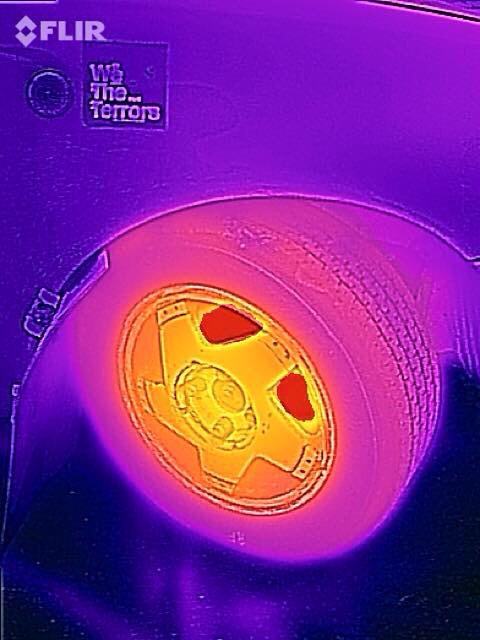 And one of us out on the stages :-